Bustle came up with a splendid idea of putting the houses from the literature on the real estate market! Have a look at several ads that I absolutely love!
JOIN THE RURAL "TINY HOUSE" MOVEMENT TODAY!
For sale: Return at the end of your journey to trendy "tiny house" with full garden in a close-knit farming community. Simple, cozy, yet large enough to entertain a party up to 13 dwarves and one wizard. Home has long legacy of ownership in a family of adventurers and jewellery collectors. Unique features include: round windows with fantastic views of the countryside and a full kitchen well-suited to cooking six square meals a day. Current owner gone West; please address all inquiries to realtor.
BRIGHT, COLORFUL FARMHOUSE IN RURAL CANADIAN TOWN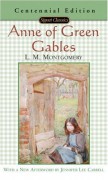 For sale: Imagine yourself reading Tennyson and sipping raspberry cordial with your bosom friend in this RADIANTLY lovely rustic orchard home! Must-see attractions such as the White Way of Delight and the Lake of Shining Waters are only a short buggy ride away! Within walking distance of the local school, this home is perfect space for a family to grow.
COSY, GROUND-FLOOR STUDIO APARTMENT IN SURREY; ROOM FOR STORAGE
For rent: Why rent a gloomy basement flat when you can feel like one of the family? Modern, executive home with top-of-the-line furnishings in village of Little Whinging has main-level studio to let. Flat is snug and intimate, but with room to store your belongings, it's all you'll need. Home owners are respectable, normal middle-class couple with sweet, gifted child. Serious inquiries only. First and last month's rent is required upfront, and deposit is non-refundable. No funny business, no weirdos.